Each camp will vary in activities and programs depending on the age, theme and season. But you can be sure of one thing for every camp - it will be one of the BEST weeks of your life!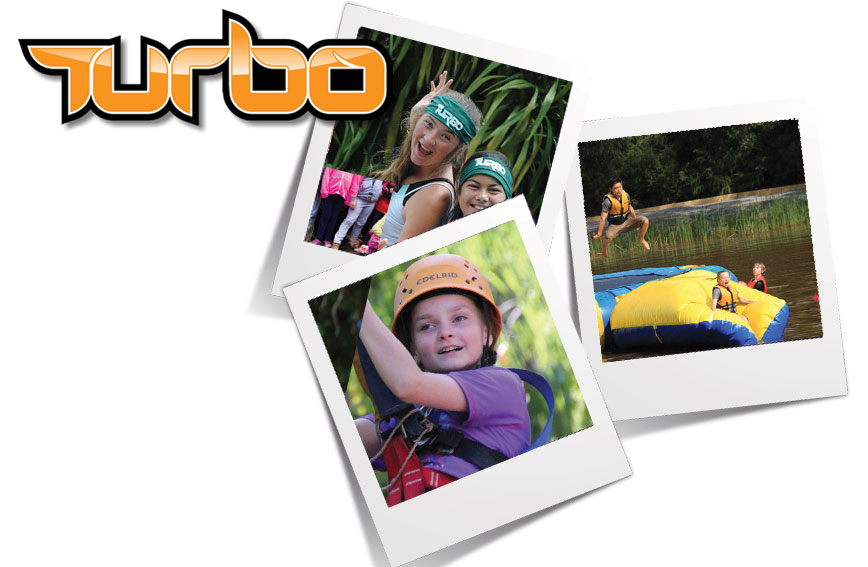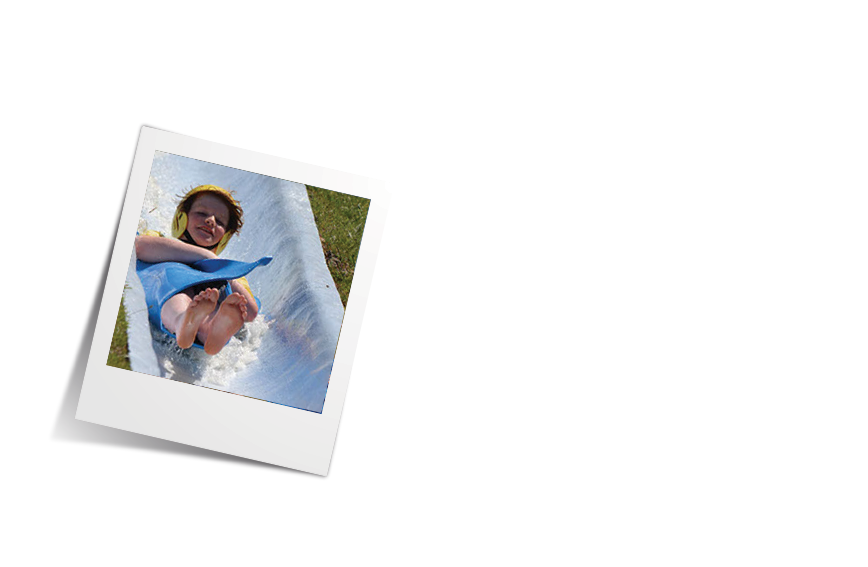 Typical Day
Each morning we begin the day with a full camp gathering at Flag Pole. We welcome the day, go over any daily announcements, sometimes play some games and say grace. Afterwards we head into the dining hall overlooking the beautiful Yarra Ranges for breakfast. After breakfast Campers split up into their team groups and alternate between activities until the morning tea break and Turbo Café, where they then head into another two sets of activities and then lunch. After lunch the campers will either enjoy a big camp game, or go into more activity rotations until afternoon tea and TURBO TIME where campers have "free time" and can enjoy any of the activities open that day, relax outside, in their cabins or in the Turbo Café. This takes us back to Flagpole in the afternoon leading to dinner.
Depending on the age of the camp, Club will be held in the morning or night of each day and will be followed by Cabin Time.
Campers will then take part in a great All Camp Activity, then supper and bed.
Our Teen camp programs include a 'Teen Lounge' as the final activity at night. Teen lounge is where we enjoy supper, board games, puzzles, music and connecting with other campers and Chiefs.
The below schedules are a basic outline of our camps: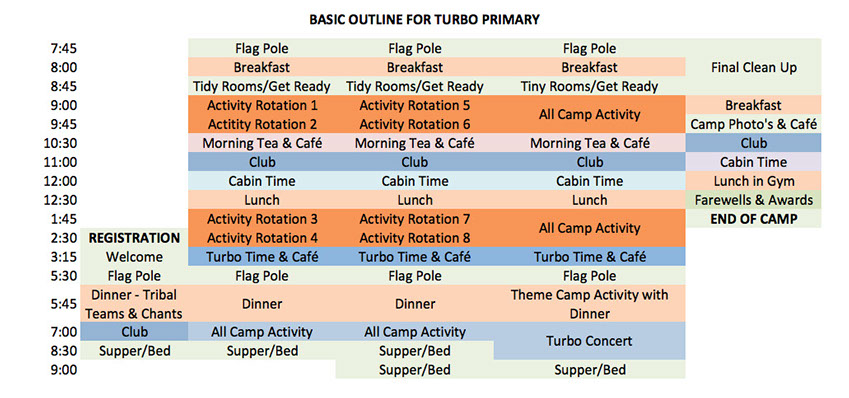 Please note session times and schedules will vary for each camp.
Both registration and sign-out times may vary for each camp, so please see your specific camp for details.
Ratios
Typically there are 8 to 10 campers in a cabin group with two Chiefs. During activities, Chiefs and Activity staff will supervise children at all times, including meals and Club.
Activities
ADANAC CYC has a huge range of activities, including our famous water Speed Slide, Flying Fox, Canoeing, Archery, Low Ropes, Disc Golf, GAGA, Mountain Boards, Nature Trail, Bikes, Aqua-Tramp, Trampolines, Basketball Court, Beach Volleyball, Cage Soccer, Soccer Field, Art/Craft, Camp Cooking, Raft Making, Camp Games, Colour War, Scram Ball, the Turbo Café, Club, a Games Room, and more!
Turbo Time
Following the rotation activities each day the campers have an opportunity to choose an activity of their own choice during Turbo Time. After afternoon tea and the Turbo Café campers might ride the flying fox, join in a beach volleyball game, enjoy a few rounds of GAGA, hang out at the trampolines, race down the water-slide, take on at cage soccer, shoot a few hoops in the indoor basketball stadium or jump on and off the water-tramp in the Adanac lake.
Turbo Café
Turbo Café is a safe place for kids to relax and enjoy snacks and soft drinks during their breaks to connect with other campers and Chiefs, relax and enjoy the beautiful view at ADANAC.
Please note: Campers do not carry money during camp - you are able to make a deposit for the Turbo Café upon registration. Any money your child doesn't spend during camp will be returned to you at the end of camp during the sign-out process.
Chiefs
Our Volunteers come from the Yarra Valley, across Victoria and even internationally to lead on our Turbo Camps. All our volunteers undergo an extensive reference check and all have current Working With Children Check. Our Cabin Chiefs are all actively involved or leading in their Church and demonstrate faith and a Christian world-view in their everyday lives.
Meet some of our chiefs below:
Interested in
becoming a chief
?
Accommodation
With an overall capacity to sleep 125+ guests in three separate accommodation areas, the unique setting enables groups to experience and strengthen community without compromising comfort and privacy. Each guest room is carpeted and heated with many rooms enjoying their own private en-suites. All of the accommodation is easily accessible and closely situated around the dining and function rooms.
Other facilities include quality full-catering, indoor sports stadium, two games rooms, outdoor chapel, sports oval, seated campfire hollow, extensive verandas, and a wide variety of on-site activities.
Club & Cabin Time
Each day the whole camp gathers for Club; a fun, interactive session of music, games, skits, videos, and a word from our guest speaker. Club is a great time for Campers to learn about themselves, life & God and how to live out a Christian faith while still having a whole lot of fun!
Cabin time happens straight after Club, where Cabin Chiefs will take their campers back to the cabin, or find a nice spot outside and openly discuss the message that was just heard by the speaker in a more personal setting. Campers can ask questions, share their thoughts and discuss with each other what they're learning and how this effects them and their life.
Have more questions about Turbo Camps or any of our other camp programs? Check out our
Frequently Asked Questions